YouTube is home to a range of quality educational content that suits the learning requirements of a variety of learners. Some of YouTube's content is made by devoted educators and teachers who encourage learning outside the traditional classroom walls.
The area of English as a second language is one that language teachers have set their own YouTube channels and offer video lessons that cover virtually everything that is linked to learning English. In this article, the emphasis is put on these channels.
The aim is to offer language teachers with appropriate video resources that they can apply in their class. Below is a list of 10 YouTube channels that teachers can use to teach English online.
1. BBC Learning English

One of the most influential media companies globally, BBC offers millions of radio listeners and TV viewers, with educational content and quality films and shows.
They have a YouTube channel, where they adjust their materials to suit English learners while also helping them understand the complexities of grammar with real-life instances.
One of the best shows that can help teach English is NEWS review. Here they tell an actual news bulleting from BBC radio and explain the vocabulary and grammar that's used in the news announcement. It best suits students with an intermediate ability of comprehension .
2. LinguaMarina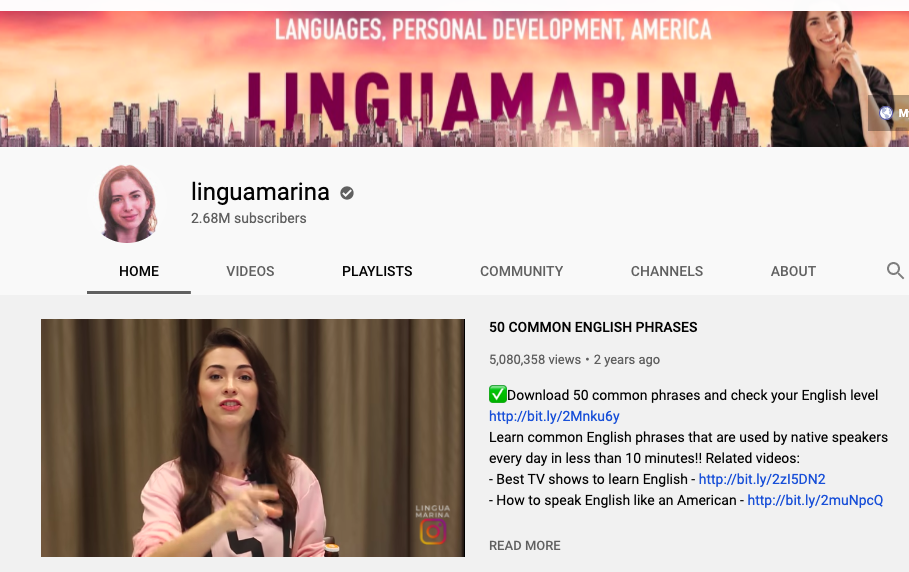 Lingua Marina is a YouTube channel that focuses on teaching American English and covers topics omitted by school teachers and university professors.
By using the channel, a teacher will be able to use the videos to teach his or her students how to pronounce and have an American accent, boost their vocabulary with slang words and idioms, and avoid common grammatical mistakes.
One of the significant benefits of this channel is that it also shares tips and life hacks for learning English.
3. VICE
Vice Youtube: is another YouTube channel that's beneficial as far as teaching English is concerned. The channel covers lifestyle and culture and offers videos that are always funny as well as entertaining.
They create and find bizarre stories that tend to challenge a person's views on art, culture, fashion, food, technologies, science, as well as other multiple topics. The presenter uses modern English, which is very helpful, especially to students beginning to learn English.
The fact that one learns English as they learn other topics offers a fantastic opportunity to learn English.
4. TED
TED is another channel that teachers can use to teach English while the students are also learning something else. TED is one of the most famous conferences in the world as it gathers leading experts and scientists to give comprehensive and popular subjects.
From molecular biology to finance, criminology and psychology, everything is described at TED in a few minutes. Here an English teacher can help his or her students to focus on the various accents of non –native English speakers.
It is an excellent opportunity that they will have to train their listening skills.
5. English with LinguaTrip
LinguaTrip is an online platform that enables users to book language schools as well as learn English online. They have a youtube channel in which they explain vocabulary, grammar and traditions in funny and short videos. A teacher can use this channel's seasonal content to teach English to his students.
6. Learn English with Misterduncan
This channel is one of the most popular YouTube channels for English learning videos. Teachers can always use the channel to teach their students grammar as Misterduncan is very passionate about the topics he is teaching. Through the sessions, the audience can feel his excitement about English. He ensures the sessions aren't boring by regularly using humor. It is a reputable channel that has taught English for free since 2006. Some of the lessons to expect on the channel include lessons on topics such as slangs, money and fashion. Students can watch and listen to how the language is spoken .
7. Real English
The real English channel best suits beginners and offers a vast collection of free grammar lessons. Each of the lessons comprises two videos, one without subtitles while one has subtitled and one with a handful of exercises while the other has no handful of exercises. The channel has real-life situations and real people, and thus learners get to have a true feeling for how people speak English.
8. British Council: Learn English Kids
This is a channel that is inspired by the fact that songs are the most effective and enjoyable way to teach English. It offers rhythms and melodies that help create lasting memories, which are crucial as far as picking up new expressions, colloquialisms, and verbs are concerned. Teachers can use it to teach both adults and children who are learning English as a second language. The channel is full of animated videos featuring cartoons and offers entertainment and subtitles in English.
9. VOA Learning English
This is another great channel that teachers can use to teach English. The channel offers news reports with subtitles that are read at speeds slower than usual. This offers the viewer time to hear each word plainly and to view the shape of the presenter's mouth as they read the script. It also posts it GOOGLE, Hangouts where a caller from all over the world use English to discuss stories that have been in the news headlines. They also offer tips on grammar and different speaking aspects.
10. Britlish
This channel offers a unique approach compared to other learning channels. It mainly focuses on learning around exciting things that one can meet, such as the vocabulary used at an airport.
It offers a description of such vocabulary simply while also accompanying the lessons with subtitles. A teacher will find it very useful as far as teaching English to ESL learners is concerned.
In conclusion, teaching English online has proven to offers fruitful results. Most importantly, YouTube has proven to be a useful tool, and by using any of these 10 YouTube English teaching channels, teachers can be assured of positive results among their students.
In the quest to student English, these channels offer variety in helping one become not just a better student but a better teacher as well.