According to survey by Ally Invest, sixty five percent of adults said they think investing in the stock market is either scary or intimidating. What is it that makes them afraid? Making the wrong investment, trusting the wrong sources, or not having enough money to invest.
Here Are The 20 Best Investing Books On Amazon Everyone Must Read:
1. The Intelligent Investor




Though "The Intelligent Investor" by Benjamin Graham was first published in 1949, much of its original wisdom holds true, from the importance of value investing and loss minimization to resisting emotional decision-making when navigating the financial markets.
However, the newest edition has been updated with data on modern markets, as well as commentary and footnotes by financial journalist Jason Zweig. It has sold more than a million copies worldwide and has been endorsed by various industry experts and publications, including Barron's. I have two copies of this book and it is in my opinion one of the best books ever written in finance and money making.
2. How to Make Money in Stocks


GET IT NOW ON AMAZON



William J. O'Neil's bestseller, "How to Make Money in Stocks," demystifies how to make money while investing, from how to choose stocks that will jump up in price, to picking the best bonds, stocks, or ETFs for your portfolio. The book even covers how to pick up on the market's current trends—and profit from them, of course.
O'Neil is the founder and chairman of Investor's Business Daily, a daily newspaper covering finance, economics, and the stock market.
3. How to Invest in Real Estate



Investing your money doesn't always mean purchasing stocks or bonds. Real estate investing is another way to diversify your investment portfolio and make returns.
That's where Joshua Dorkin and Brandon Turner's "How to Invest in Real Estate" comes in; it includes more than 40 personal stories of how real estate investors made it big, offering advice on how to invest in real estate when working a full-time job, strategies to build wealth through real estate investing, how to fund your real estate deals, and even how to get your spouse on board. The authors are co-hosts of the real estate podcast, "BiggerPockets Podcast."
4. The Little Book That Still Beats the Market


GET IT NOW ON AMAZON



"The Little Book That Still Beats the Market" is the aptly-named, updated version of Joel Greenblatt's "The Little Book that Beats the Market," which was first published in 2005 and sold more than 300,000 copies.
It explains to aspiring investors how they can consistently beat market averages by utilizing the author's rather simple formula of buying stocks when they hit rock-bottom prices. But don't fret—Greenblatt explains the concepts in simple terms and without jargon. This version includes data on the financial crisis and how the formula performed during that time.
5. The Simple Path to Wealth


GET IT NOW ON AMAZON



If you've ever wished your parents taught you a little more about money, the financial markets, and how they work, then JL Collins' "The Simple Path to Wealth" is for you.
This book started out as a collection of letters to the author's daughter but grew into a comprehensive financial guide. It includes topics like debt, how the stock market works, how to invest in both a bull and a bear market, navigating the many retirement funds out there, and even the importance of having f-you money.
6. Common Sense on Mutual Funds


GET IT NOW ON AMAZON



If you want to invest, then you may need to familiarize yourself with mutual funds at some point. Enter John C. Bogle's "Common Sense on Mutual Funds," which was originally published in 1999.
Keep in mind that a mutual fund is an investment vehicle through which investors pool their money to invest in securities; it's also an easy way to diversify your portfolio for a low price. The book's updated version covers topics from the basics of mutual fund investing to regulatory changes to how to build an investment portfolio with staying power. Bogle is also the author of "The Little Book of Common Sense Investing" and "Enough."
7. Broke Millennial Takes on Investing




Erin Lowry's "Broke Millennial Takes On Investing" is one of the best investing books for beginners for its approach to several questions geared towards millennial investors, like "Should I invest while paying down student loans?" or "Should I use a robo-advisor or an investing app?" This is the second installment of Lowry's "Broke Millennial" series.
Lowry has also appeared in The New York Times, Wall Street Journal, and on CBS Sunday Morning and has been published in USA Today, Cosmopolitan, and Refinery29.
8. A Random Walk Down Wall Street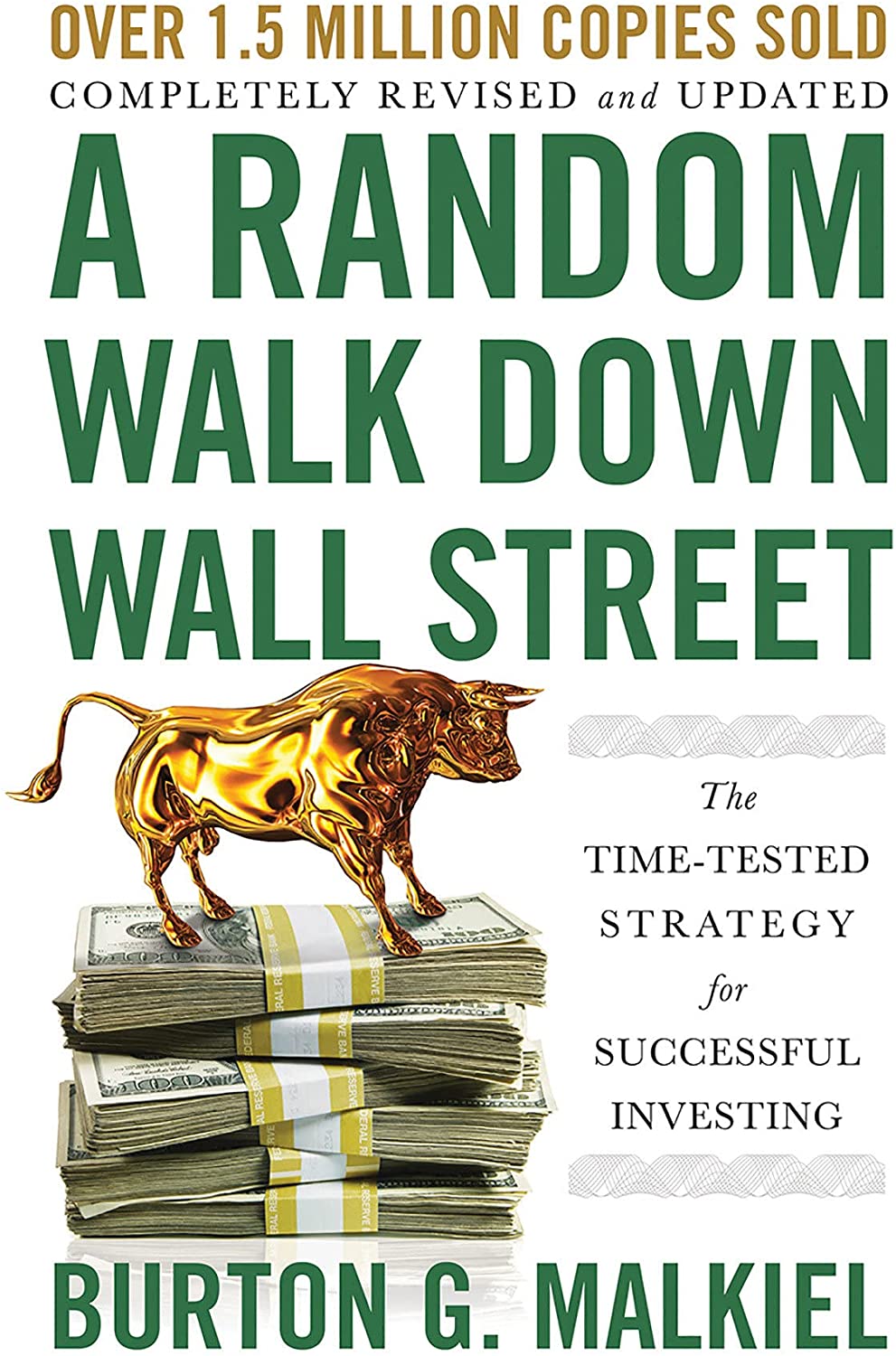 You've probably heard of Burton G. Malkiel's "A Random Walk Down Wall Street"—after all, it's now in its 12th edition and has sold more than a million copies worldwide.
It provides an explainer of all major investment vehicles, from stocks and bonds to real estate investment trusts and tangible assets. The updated edition includes a new chapter focusing on behavioral finance, or how our emotions affect our financial behavior and investment strategies. Malkiel is also the author of "From Wall Street to the Great Wall" and "The Random Walk Guide to Investing."
9. Thinking, Fast and Slow




While this New York Times bestseller isn't a finance book per se, it's a great exploration into the human mind and the science behind the way we think. Daniel Kahneman's "Thinking, Fast and Slow" delves into the mind and the two systems that make it "go"; as the title suggests, one is fast and one is slow.
These systems affect everything from where we choose to vacation to even how we invest in the stock market. Kahneman is a psychologist and winner of the Nobel Prize in Economics.
10. Principles: Life and Work



Ray Dalio's "Principles: Life and Work" is a first-person account of the author's financial success and the advice that led him there. It's worth noting that Dalio founded hedge fund Bridgewater Associates in 1975, which has since grown to one of the country's top funds.
This book has an interesting take on management, economics, and investing—that a systematic approach with a set of rules and strategies is the best approach and the clearest road to success, both financial and otherwise.
11. The Only Investment Guide You'll Ever Need




Andrew Tobias' "The Only Investment Guide You'll Ever Need" was written in the 1970s (while he was working as a writer for New York Magazine, no less), but its advice still rings true today.
The book has tips on how to build wealth (no matter your means), how to best prepare for retirement, and even everyday strategies that will save you big over the long term—all told in the author's trademark witty, straightforward writing style. (This updated version also applies these lessons to today's market.) Tobias is the author of New York Times bestsellers "Fire and Ice" and "The Invisible Bankers" and is a regulator contributor to Time, Esquire, and Parade.
12. Rich Dad Poor Dad



Robert Kiyosaki's "Rich Dad Poor Dad" is one of the most popular personal finance books of all time and with good reason.
It tells the story of the author growing up with his father and his friend's father and what he learned from both dads, from assets and liability to how you don't need a large income to make money, and even what your kids aren't learning in school (but should be). Though the book was first published in 1997, this 20th-anniversary edition includes an updated take from Kiyosaki.
13. Think and Grow Rich


GET IT NOW ON AMAZON


Napoleon Hill's bestselling "Think and Grow Rich" is part motivational guide, part financial guide.
Hill compiles stories from the business greats—think Andrew Carnegie, Henry Ford, and Thomas Edison—to support his trademark "Law of Success" philosophy or the principles that'll help one achieve success. First published in 1937, it's since sold more than 15 million copies. This updated version includes commentary from Arthur R. Pell, Ph.D., an author, lecturer, and consultant.
14. The Money Manual

GET IT NOW ON AMAZON



Tonya Rapley's "The Money Manual" is an ideal place to start for millennials who want to invest, but aren't sure where to start—or for those who aren't sure what to do with their money, period.
Among the topics covered are simple money management techniques, setting financial goals, improving and building credit, and even how to tackle student loan debt. Rapley is the founder of My Fab Finance and has appeared on Forbes, U.S. News, New York Daily News, Refinery29, Vogue, and more.
16. The Women's Guide to Successful Investing




Did you know that, according to a survey by S&P Global, only 26% of American women have invested in the stock market? It's time to change that. Nancy Tengler's "The Women's Guide to Successful Investing" covers everything from wealth accumulation strategies to market analysis to advice meant just for female investors.
With two decades of professional investing experience, Tengler is a columnist, author, and professor. She's also been a guest on CNBC, PBS, CNN, and more.
17. Live Richer Challenge

GET IT NOW ON AMAZON


Tiffany Aliche's "Live Richer Challenge" books have gained mass popularity in recent years and with good reason. This pick helps those with debt get their finances in order so they can start investing and building wealth, tackling everything from money mindset to budgeting and saving to investing.
A personal finance educator, Aliche is also the author of "The One Week Budget." She's been featured in "Good Morning America," the "Today" show, The New York Times, The Wall Street Journal, and more.
18. The Richest Man in Babylon




The Richest Man in Babylon' is considered as the greatest of all inspirational works on the subject of thrift, financial planning, and personal wealth. Revealed inside are the secrets to acquiring money, keeping money, and making money earn more money.
Providing financial wisdom through parables, 'The Richest Man in Babylon' was originally a set of pamphlets, written by the author and distributed by banks and insurance companies. These pamphlets were later bundled together, giving birth to a book. In this new rendering by Charles Conrad, the classic tale is retold in clear, simple language for today's readers. These fascinating and informative stories set you on a sure path to prosperity and its accompanying joys.
19. The Millionaire Next Door




America's wealthy seldom get that way through an inheritance or an advanced degree. They bargain-shop for used cars, raise children who don't realize how rich their families are, and reject a lifestyle of flashy exhibitionism and competitive spending. In fact, the glamorous people many of us think of as "rich" are actually a tiny minority of America's truly wealthy citizens—and behave quite differently than the majority.
At the time of its first publication, The Millionaire Next Door was a groundbreaking examination of America's rich—exposing for the first time the seven common qualities that appear over and over among this exclusive demographic. This edition includes a new foreword by Dr. Thomas J. Stanley—updating the original content in the context of the financial crash and the twenty-first century.
20. The Security Analysis

GET IT NOW ON AMAZON



Security Analysis is one of the most influential financial books ever written. Selling more than one million copies through five editions, it has provided generations of investors with the timeless value investing philosophy and techniques of Benjamin Graham and David L. Dodd.
As relevant today as when they first appeared nearly 75 years ago, the teachings of Benjamin Graham, "the father of value investing," have withstood the test of time across a wide diversity of market conditions, countries, and asset classes.
This new sixth edition, based on the classic 1940 version, is enhanced with 200 additional pages of commentary from some of today's leading Wall Street money managers. These masters of value investing explain why the principles and techniques of Graham and Dodd are still highly relevant even in today's vastly different markets.
Final Thoughts
I have read a number of the books on this list and they are a must read if you want to know how to invest and grow your money. Some I have read several times because they are just that good. The Intelligent Investor as well as The Richest Man in Babylon are my all time favorites. Through reading them, I was able to put together 10 investing rules that I follow.
The others are amazing as well but those are the two I keep at the front of my shelf and return to read every year. It's truly timeless knowledge. Any of the books on the books on this list however, are full of wisdom to get your finances in order.
Are there books you have read you feel belong on this list? Comment below!