Heading out on a trip and not sure if you have all of the right items? Here are the best 25 travel gadgets you can find on Amazon  — everything you need to bring on your next holiday!
1. SHACKE PACK PACKING CUBE SET




One of the best travel accessories money can buy is a good set of packing cubes. This set does not disappoint with a perfect 5 star rating on Amazon with nearly 8,000 reviews! We personally are obsessed with packing cubes and don't leave for a trip without using them.
Not only do they keep you organized when you travel but they also help you save space. It's surprising how much can fit in these cubes when you roll your clothes tightly. Whether you're packing in a suitcase or backpack these are one of the best travel gadgets to own.
Some features of this particular set include:
High-quality water-resistant nylon material that is durable 

4 different size packing cubes  XL ( 17.5″ x 12.75″ x 4″), L (13.75″ x 12.75″ x 4″), M(13.75×9.75×4), and S (11″ x 6.75″ x 4″)

4″ deep design 

Laundry bag included to help you keep your dirty clothes away from your clean clothes on your trip


2. SET OF 4 TRAVEL SHOE BAGS

Another affordable and incredible travel accessories option is this set of 4 travel shoe bags. These shoe bags are adored by fans and have a perfect 5 star rating on Amazon with over 2,000 reviews!
Think about where you go with your shoes and the kind of things that could be touching your clean clothes and items in your suitcase. If the though of that doesn't gross you out then I am not sure what will.
Most sane people wouldn't let you get in their bed with their outdoor shoes on so why would you consider packing them with all your clean clothes! That's where these handy travel shoe bags come in and why we think they are one of the best travel gadgets you could own!
They are perfect for carrying shoes when you travel, going to and from the gym or work, and keeping your shoes dust free in the closet.
Some features of this particular set include:
They come in 2 sizes, you get 2 XL bags for bigger shoes or ankle boots and 2 standard size that fits regular shoes under size 10

The nylon fabric is waterproof and lightweight

Made with a strong, high-quality zipper or you can choose the drawstring bag option

Lifetime guarantee and warranty



3. GILLETTE VENUS SNAP MINI RAZOR

Our next top rated best travel gadget is the Gillette Venus Snap Mini Razor. We actually have recommended this in our best hand luggage toiletries guide because we love how small and compact this quality razor is.
I am already a fan of the Venus razors as they do a fine job giving me a close shave without cutting me and I am able to use the blades for alot longer than other competing brands.
Save room where you can with compact travel accessories like this!
Some features of this product include:
5 blades for an ultra-close shave 

Protective ribbon of moisture that gives you a smooth glide when you shave

Compact size that takes up less space than their regular size

Refill with any Venus razor blade



4. TRAVEL TOILETRIES BAG

This is one of the best travel accessories for perfect organization for all your travel toiletry needs. The ratings are incredible for this convenient four compartment with a heavy duty hook hanging toiletry bag that folds up and fits right in your suitcase.
There's nothing worse than a liquid exploding in your suitcase, but this product helps it from spreading to your clothes with its different compartment design and waterproof material. Its smart small design can surprisingly hold a lot of toiletries and other small accessories.
Some features of this product include:
Made of high-quality Oxford cloth fabric that's waterproof

Heavy duty hook built to withstand whatever you put inside as it hangs

Visual window design on all compartments so you can see what's in each section

3 larger compartments and one small mesh compartment to help you organize all your toiletries



5. SAND FREE BEACH BLANKET

The best travel gadget and travel accessories any beachgoer would love is this Sand Free Beach Blanket! There's nothing more annoying than having to shake sand off your beach blanket everytime you move. This beach blanket is waterproof, sand proof, and really easy to fold!
Amazon users swear by this lightweight, packable beach blanket that keeps sand off them while they are enjoying a beach day. Users also love the waterproof feature for picnic days too because you can set it on wet grass and not get wet.
Some features of this product include:
Fabric is sand proof and waterproof. Sand easily shakes off and water can't penetrate through the fabric
The size is 108 x 85.19″ fully open which is a large size perfect for a small group of people
Easy to fold and only weighs 1.1 lbs
Machine washable
Comes with 4 sand pockets and 6 stakes to secure your blanket from the wind
A waterproof storage pocket is built into the design to store small things
Comes with a lifetime warranty and guarantee



6. SLEEPY RIDE AIRPLANE FOOTREST

There's nothing more uncomfortable than a long flight with little leg space. Unless you're flying business or first class you're bound for some discomfort on any flight back in economy. That's where this next best travel gadget comes in handy.
Amazon users love how portable this product is and how comfortable it made their flight. This is one of those travel accessories that makes a great gift for a frequent traveler too!
Some features of this product include:
Made with high-quality, thick memory foam to enhance your travel comfort on airplanes.
Helps prevent lower back pain, stiffness and leg swelling suffered during long flights.
Hangs from the arms of the tray table with feet in footrest. This works with the tray table up or down.
Lightweight and compact design that easily fits into your carry-on luggage with drawstring carrying bag.
100% Money-Back Guarantee



7. PORTABLE FOLDABLE TRAVEL HANGERS

Another one of the best travel accessories with a perfect 5 star rating on Amazon. These portable and foldable travel hangers help you keep your clothes nice and neat when traveling. These nifty travel gadgets are also great for when you need to wash and dry your own clothes on the go.
Amazon users who rated this product love using these travel hangers for drying their clothes when they travel so they can pack light and re-wear the same clothes on their trip.
Also, when you stay at hotels there's only a few hangers ever, this solves that problem letting you hang whatever you need!
Some features of this product include:
The design works for baby and adult clothing. For baby's clothes leave the hanger half folded and fully unfolded for adults clothes
Anti-skid grooves keep clothes from slipping off the hanger with its smart design
The design is compact making the folded hangars easy to fit in small pockets in your luggage
Lightweight and durable design that can hold wet clothing
100% Money Back Guarantee for 30 days



8. WATERPROOF PHONE POUCH

This is hands down one of the best travel accessories you could have if you're going anywhere that involves a water-related activity or heavy rain. We love these waterproof phone cases to keep our phones safe while we swim, kayak, or even if you get caught in a heavy downpour.
Many of the newest smartphones have water resistant or waterproof features, but that still doesn't protect them from corrosive salt water that can get into your hardware. Throw one of these dry bags on your phone and let your worries float away.
What's even better is you can still use your phone when its in the case to take photos underwater! This is also great for storing money, travel documents, and anything you need on hand while you're swimming at the beach. No need to keep someone waiting at the beach towel with all your phones and keys with these because you can take them right in the water with you.
These are also the best travel gadgets for water parks!
The leash on it also keeps you from losing it while you're in the water.
Amazon users rave about this product and this is one of the best rated waterproof phone pouches on the site with over 7,000 reviews.
Some features of this product include:
Easy to operate the touch screen functions in the ouch with the exception of the touch ID fingerprint.
Fully waterproof pouch
Great for storing other small items like cash, keys, credit cards, and IDs.
Fits all large Smartphones
Features a simple snap and lock access, easy to keep out water, snow, dust, sand, and dirt.
Comes with two per pack



9. TRAVEL CABLE ORGANIZER

Another pick for best travel accessories with excellent Amazon reviews is this travel cable organizer by BAGSMART. This portable organizer bag helps you keep all your cables and cords for your devices neat in one place. No more digging through your bag to find your phone charger, headphones, computer chargers, power banks, or USB cables.
Keep them all neat and tidy in one easy to find place. There are several different size mesh pouches and elastic loops that help you keep your best travel gadgets and electronic cables neatly stored and organized in one place.
Some features of this product include:
Dimensions are 9.4″L x 6.5″W x 2.5″H
Made of quality durable and water-resistant polyester
Double-layer design provides more pockets for travel gadgets and electronic accessories
Multiple mesh pockets and elasticized segments of various size provide best flexibility for organizing accessories
Comfortably big enough for holding most of your electronics with ease, like batteries, chargers, USB cord, ear phones, SD cards, electrical adaptors, etc.


10. RFID BLOCKING PASSPORT & TRAVEL WALLET

We love this next Amazon favorite and best travel accessories pick. This wallet can hold your passport as well as all your other items you'd fit in your wallet from money to credit card slots with RFID blocking technology that keeps identity thefts away from your personal information.
These wallets also come in every color under the rainbow so you can get a classic black color or your favorite color with the wide selection of colors to choose from.
This smart design also comes with a SIM card slot in case you need to pick up a local SIM card in another country. You will have a safe place to store yours!
Amazon users love how organized this wallet keeps them and the compact, gorgeous design!
Some features of this product include:
Material is made from high-quality ECO-Friendly PU leather.
Made with RFID blocking material
Compartments include 1 passport pocket, 1 boarding pass compartment, 3 credit cards slots, 1 ID slot, 1 sim card pouch, 1 coupon ticket slot, 1 cellphone pouch (max 5.8 inches), 1 money & coins zippered pocket, 1 key holder 1 pen holder, and 1 slim pocket
Chic multi-functional design
Many colors to choose from



11. SPACE SAVER TRAVEL BAGS

One of my favorite travel accessories on this list and best travel gadgets hands down are these space saver travel bags. Increase your storage space in your bag with these space condensing bags.
These work like the traditional space saving bags but without the need for a pump or vacuum to suck all the air out.
Simply place your clothes inside and roll the bag until the air is released and seal. Viola! Just like that you have condensed space in your bag.
These bags are also airtight and water tight keeping your clothing safe from mildew and odors. This is a great place to keep clean clothes while you travel so that your dirty clothes don't mix with your clean clothes.
Amazon users love these for carry on luggage as you can fit alot more into your suitcase with these condensing bags!
Some features of this product include:
Increase storage space by 300%
10 pack that comes with 5 Jumbo space saver bags (27.5 x 19.5 inches) and 5 large space saver bags (23 x 15.5 inches)
This design doesn't need a vacuum or pump. Simply roll-up compression bags with their valve suction technology that allows for compressed storage without additional equipment.
Air & water tight so that your clothing won't get mold, mildew, dust, bacteria, or odor.
Durable and quality plastic
Return if you're not satisfied



12. COMPACT TRAVEL CONTAINERS

Another highly rated travel accessories must are these compact travel containers for all your liquids and small items! These travel containers make traveling carry on a breeze. Simply put your favorite toiletry products in these handy TSA approved size containers.
These are super easy to clean after using unlike some other comparable products and are also great for organizing other small items like pills, small hair accessories, and even jewelry!
Some features of this product include:
Come with 5 containers
Made of BPA-free silicone and plastic
Multiple use for any liquids or small items
Designed with anti-drip flip cap to prevent leak and spill.
Easy to clean with warm soapy water.
Easy organization with 5 different color jars.
TSA size approved



13. MEMORY FOAM TRAVEL PILLOW

One of the best travel gadgets for comfort is this memory foam travel pillow! It's really hard to find a good travel pillow and I honestly got over trying to shop for one until I read the raving reviews on this one. With over 1,000 reviews and almost perfect 5 star rating, this twistable travel memory foam travel pillow conforms into any shape you need for comfort on those long travel days.
Another thing I hate about most travel pillows is that they don't have a pillowcase. I cringe when I see people's travel pillows fall to the ground at airports without a removable case that they can clean. This pillow has a removable cover that's washable so you can keep it clean and fresh each trip.
Users who rated this product love this pillow so much they use it for more than travel from watching tv on the couch to using for extra support at work. This is the best travel accessory that keeps on giving after your trip!
Some features of this product include:
Offers custom support with its contouring memory foam and twistability to shape and position anywhere you feel discomfort.
Supports pain relief
Versatile. You can use this for your neck, back, shoulder, spine, anywhere and everywhere.
Removable and washable pillowcase
Easy to carry with its snap closure that can be attached to your carry on luggage or backpack.


14. COMPRESSION SOCKS

One of the best travel accessories money can buy for anyone who does air travel are a good pair of compression socks. Compression socks help increase circulation and reduce any swelling or deep vein thrombosis that you're more prone to get on a long flight. This helps with fighting blood clots which are rare but can be deadly.
These top rated compression socks come in a bunch of different colors to choose from. Users loved how soft and comfortable the fit was on these socks!
These are also great for runners and athletes.
Some features of this product include:
Made with Power Support technology to improve blood circulation and oxygen.
Helps prevent swelling and blood clots on long flights.
Designed with moisture wicking, lightweight and breathable fit that doesn't slip down or cut off your circulation.
Many colors to choose from
Full refunds and returns available if they aren't the perfect fit


15. TRAVEL MONEY BELT

This next best travel gadget is perfect for anyone who wants extra protection when they travel. I love how discrete this money belt is vs the typical money belt design that goes under your clothes.
This money belt comes in a few popular colors and has a secret zipper compartment perfect for stashing your cash. It's designed to also fit small items like individual keys or small USB drives.
Top Amazon reviewers love that they can safely hide their cash in this discrete casual belt.
Some features of this product include:
Safely conceals money and small items from pickpockets and thieves.
Comes with an extra-wide hidden pouch help you access easier.
Unisex style
Made of nylon and fits pant sizes 26″-40″
Adjustable buckle
Comes in a few different color variations



16. CRUISE SHIP POWER STRIP WITH USB OUTLETS

This next best travel accessory is for those who love to go on cruises! A common problem travelers run into on cruise ships is that they don't have enough outlets to charge all your electronics. This power strip takes that problem away!
Complete with 3 outlets and 2 USB chargers you can have multiple devices charging at once. This power strip is also compliant and compatible with all major cruise ship lines.
Cruise ships require power strips to not have a surge protector, which is hard to find for a very specific need. This power strip comes without a surge protector and is what you're looking for to have a happy cruise experience without trying to figure out how you'll charge everything!
Plus it has a perfect 5-star rating with over 1,000 Amazon reviews!
Some features of this product include:
Fully Cruise ship compliant with all major lines T&C
Comes with Three 3-prong outlets & Two USB sockets
Compact & Lightweight



17. PORTABLE TRAVEL STEAMER

Another one of my personal favorite travel accessories and best travel gadgets to own is a portable travel steamer! Wrinkles in my clothes is always an issue when pulling them out of the suitcase. This handheld portable travel steamer does the trick and barely takes up space in your suitcase.
Amazon customers LOVE how quickly this travel steamer heats up and helps them get wrinkles out of their garments. They also love how compact it is.
Note: You cannot use international adapters on this product! Be sure to use as instructed for safety.
Some features of this product include:
Designed for no leaks or water spitting
Built with a Nano Filter that protects the heating element from calcification for a long lasting and safe product
Heats up within 25 seconds
Compact design and lightweight
3 year warranty and money back guarantee no questions asked.



18. COLLAPSABLE WATER BOTTLE




Another great travel accessory to take on your next trip is this reusable collapsible water bottle! Besides cutting down on plastic use, this reusable water bottle is perfect for travel days. This 18 oz leak-proof water bottle collapses into a convenient compact size when empty when you need to add water simply pull to expand the water bottle.
Amazon users rave about the quality of the product as well as the compact design. It also comes in some pretty colors! This is one of the best travel gadgets that comes in handy when you need a drink and use less plastic by ditching individual bottles of water!
Some features of this product include:
Made of non-toxic and BPA-free silicone
Designed with a non-slip grip and collapsible design to make more compact.
Lightweight & durable design,
Holds 20oz of liquid and is 5.12 inches tall
Leakproof design that's easy to clean in between uses
Comes in multiple colors
1 year warranty
19. THE ULTIMATE TRAVEL BACKPACK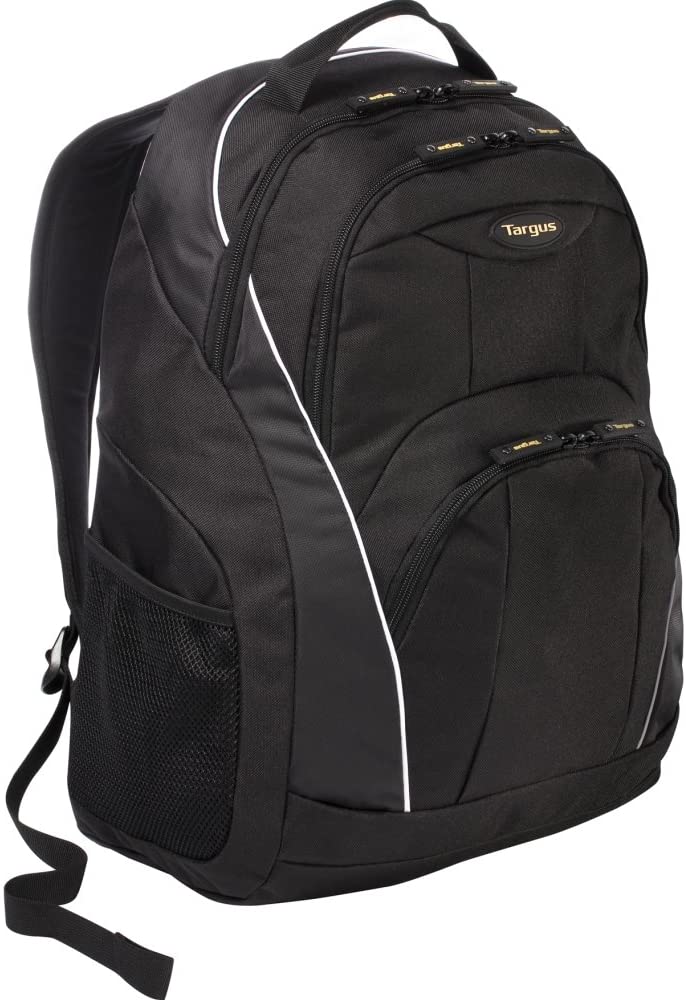 Amazon customers love love love this travel backpack to safely and comfortably store their best travel gadgets and best travel accessories on their trips. Reviewers love how durable and versatile this backpack is.
Use this backpack for everyday use or to pack for your next trip. There is a main compartment, side pockets, laptop compartment, front compartment, and an anti theft pocket to keep valuables safe.
This backpack is also designed for comfort with a breathable ventilated back and cushioned straps for shoulder support.
Some features of this product include:
Designed with a lot of storage, space, and pockets
Fits up to a 15" laptop in sleeve
Designed for comfort with air ventilated paneling on the back and straps that relieve stress on the shoulders
Built with a luggage strap to allow backpack to fit on luggage/suitcase
Designed with a hidden anti-theft pocket to protect valuable items
Built-in USB charger outside and built-in charging cable inside,
Made of Water Resistant and Durable Polyester Fabric with metal zippers
Built with a laptop compartment, main compartment, front compartment, anti-theft pocket, and side pockets.
20. TRAVEL SIZE
POO-POURRI TOILET SPRAY

This next household item comes in a handy travel size that Amazon users rave about. Don't worry about leaving odor behind when you use the toilet on your next vacation! With an almost perfect 5 star rating with over 10,000 reviews, you can trust that this product is Amazon gold.
These are great for travel as if you're on a trip with someone whether it be a hotel or cruise ship you will inevitably encounter a situation where you don't want the other person to smell your toilet time in a shared space.
This scientific formula of essential oils is meant to be sprayed in the toilet before you go and magically there is no odor! Better yet, you can use the spray to freshen up your laundry and other places beyond the porcelain pot.
Some features of this product include:
This Poo~Pourri scent is a tropical blend of hibiscus, apricot, and citrus essential oils.
Completely chemical free non- toxic

  

deodorizing formula
10 mL travel size


21. COMPACT TRAVEL UMBRELLA

Don't get caught traveling without an umbrella! This is one of the best travel accessories to always have handy because you never know when a little rain might show up in your travels! This sleek, compact design has great reviews from nearly 3,000 Amazon users.
Customers love how durable this travel umbrella in high winds. There's nothing worse than an umbrella breaking on a windy day. Customers also love the compact size and affordable price of this product! Plus it comes in a few great colors.
Some features of this product include:
Windproof design with 9 reinforced fiberglass ribs with sturdy all metal frame and shaft make the canopy highly wind resistant
Compact and lightweight design
Does not flip in strong winds!
Lifetime replacement guarantee
Comes with a travel sleeve to keep your bag dry after use
Built with automatic open and close for easy operation
Comes in a variety of colors


22. UNIVERSAL TRAVEL ADAPTER WITH SURGE PROTECTOR

No need to store tons of individual adapters for your future vacations to different countries who have different electrical outlets. This handy universal adapter has everything in one place making it one of the most valuable and best travel gadgets and travel accessories you could invest in!
Amazon users swear by this product and love that this product is small and lightweight with an additional 4 USB plugs for charging devices.
Note: Be sure to check voltages before using any adapter to make sure it's compatible for each electronic you use.
Some features of this product include:
This all in one adapter works in over 150 countries
Constructed with 1 electrical outlet and 4 USB ports to make charging multiple electronics at once a breeze
3500mA voltage
Designed with a pin locking mechanism for secure plugin


23. DIGITAL LUGGAGE SCALE

This is the best travel gadget if you are constantly having issues with the weight of your luggage! Over 5,000 Amazon customers have loved and reviewed this product that has an almost perfect 5-star rating.
Save valuable time checking in at the airport and money on overweight baggage fees by weighing your luggage before heading to the airport. This compact scale is easy to travel with and can hold up to 110 lbs.
There's also a built-in thermometer so you can check that your luggage is kept at an ideal climate.
Some features of this product include:
Can hold up to 110lb or 50kg
This product helps you avoid overweight luggage fees before getting to the airport and saves you time
Designed with a hook to attach to your suitcase for an instant weight reading
Compact design that can fit in a pocket
Built with a thermometer temperature sensor in both F° and C°
1 year warranty


24. FLIGHT FLAP PHONE & TABLET HOLDER

One of my biggest pet peeves on a long flight is when there are no built-in media systems on the planes and they have you watch movies and television shows on your smartphone or tablet. This always hurts my neck from looking down at my tiny screen – well now there's a genius solution!
This is one of the best travel accessories and best travel gadgets for those who love their inflight entertainment! The flight flap phone and tablet holder gives you hands-free viewing at eye level with this great design that allows you to hang it off the seat in front of you!
Amazon customers love this product and appreciate this clever design.
Some features of this product include:
Enjoy hands free viewing at eye level with this clever design
Reduce neck and back pain on long flights
Designed to attach to most airline seat backs and tray tables
Accommodates almost every phone and tablet size
Made of soft closed cell foam and a rigid aluminum core The Original Flight Flap will retain its shape without scratching or harming your device
Portable and light design



25. PORTABLE DOOR LOCK

This is one of the best travel accessories for safety and peace of mind when you travel. We've all heard at least one horror story of hotels accidentally giving guests hotel keys to already occupied rooms or the fear of previous Airbnb guests making copies of keys.
Whether your travel alone or not this travel gadget will give you peace of mind. This portable door lock helps secure where you're staying from the inside with this clever design.
Amazon customers have left over 1,300 glowing reviews of how this lock made them feel safe.
Some features of this product include:
Install this portable door lock in seconds without any tools
Provides additional safety, security and privacy
Use it at home or take it with you when you travel
Compact and portable design that fits in small spaces easily
Great for short term rentals or Airbnb rentals


These gadgets will definitely make your travels easier and more enjoyable. Go through the list, find what you need and happy travels. For me, the travel adapter and the neck pillow is must. I never go anywhere without them.