If you're wondering how to increase traffic to your website, this comprehensive guide will cover a variety of ways that will help you triple your website traffic in 90 days.
We'll be going over both paid and free tactics that you can use to generate traffic, so no matter your budget, you'll be able to make changes and see an improvement. Paid tactics often see faster results, whereas free tactics see good results over time.
Digital Marketing:

If you're new to digital marketing or need a refresher, the top abbreviations used are included below.
SEO (Search Engine Optimisation): The art of optimising your website's content and technical structure, as well as your off-site content marketing efforts, to improve search engine rankings and increase organic traffic
Organic Traffic: The volume of people visiting your site following a search on Google, Bing or another search engine, without any paid advertisements being involved
SERPs: Search Engine Results Pages, which appear when someone initiates a search for a term or phrase on Google, Bing or another search engine
Rankings: Where you currently place or are ranked in the SERPs for your target keywords
Optimisation: The act of optimising your content for particular key terms or phrases so that search engines recognise your content as relevant to these terms and rank it
Keywords or Key Phrases: The words, phrases or terms you are optimising your content to rank for in the search engine results pages
PPC: Pay Per Click advertising is a method of online advertising that gets your website to the top of Google quickly by allowing you to bid on certain keywords you want to rank for in an ad auction against your competitors
Put The Foundations In Place:
Increasing your website traffic is fairly straightforward, as long as you have a good foundation to work from.
This section will focus on:
Your traffic and SEO goals
Your target audience
Your competitors
Your website's health and performance
I recommend Inzagy Web Solutions
Define Your Traffic and SEO Goals:

Increasing website traffic and improving SEO can feel like an overwhelming task.
By setting goals for your organic and paid traffic, you'll have something to refer back to and check that you're on track.
It's all well and good saying 'I want to increase my website traffic!' but if you don't know how much traffic you want, or how achievable it is, or how long it's going to take, you will find it more difficult to see where things are working, and where they're not.
It's also often a good decision to focus on actions rather than numbers, for example;
'I want to optimise the most important pages on my website over the next 90 days to help triple my website traffic', rather than, 'I want more traffic'.
Identify Your Target Audience:

If you're not sure who your target audience is, now is the time to define them.
Try and be as specific as possible, and keep an actual person in mind. You may have more than one target audience.
You can use these questions to help you define this audience;
1) How old are they?
2) Where do they live?
3) Which is the most common gender?
4) What's the best promotion style?
5) Where do they spend their time?
6) Which is the best type of content for them?
Once you've got a target audience in mind, check out your Google analytics to see if the traffic currently coming to your website matches this target audience.
If not, don't panic! This could be a great opportunity to expand your audience and reframe your marketing strategy.
This could also be why you're not seeing much traffic – if your analytics don't match your target audience at all, it could mean your site is reaching the wrong audience entirely.
Assess Your Website's Current Health and Performance:

If you don't know where you're starting from, it will be a lot more difficult to measure progress in the future.
Knowing where you are now will also help you set realistic goals. It's no use setting a goal of 1000 visitors to your site a day within the next 3 months if right now you're only getting 10 visitors a week.
Google Analytics is one tool you can use to check how your site is performing, and which pages are getting the most traffic.
Google Search Console is another tool that can give you information about how your site is ranking in search, as well as any performance and health concerns your website may have.
There are also some free tools you can use to get some top-level insights about your website's performance, including SEO Analyser and Nibbler.
At this point, you should be more clear on:
Your traffic and SEO goals
Your target audience
Your competitors
Your website's health and performance
Content Marketing:

Content marketing is a long term web traffic strategy that will pay off in high-quality organic traffic.
Blogs targeting keywords:

If you don't have a blog on your site already – you need one.
A blog is a perfect place to add value to your audience by offering them tips and insights, as well as giving you a chance to target keywords your ideal customers are likely searching for to find products or services like yours.
Your blog will also be used to reach potential customers at different stages of their buyer journey.
For example, if you are selling computer keyboards, there are a few different search terms that your potential customers will search for, depending on how ready they are to buy.
You can use a keyword search tool to help you find keywords. We'll be using SE Ranking* for this example.
Step 1. Enter your keyword. For this example, I'm using 'keyboard'.

Step 2. Exclude any unrelated words. We are getting results for 'piano keyboard' which is not related to this search, so this term has been excluded.

Step 3. Read through the keywords, and see which ones you can use to create blogs.

It can sometimes be difficult to write blog posts based just on these keywords, so you can use tools like Answer the Public to see the types of questions searchers are typing into search engines that are related to your product.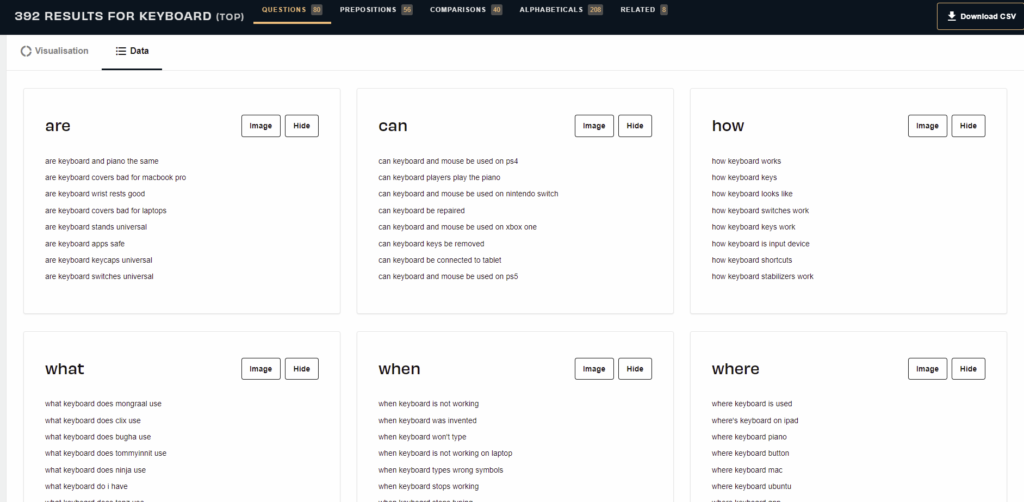 Back to the keyboard example. By using Answer the Public, we already have several blog titles focused on what people are searching for when they are deciding to buy a new keyboard, at different stages of their buyer journey.
Which keyboard is best?
Which keyboard is best for beginners?
Are keyboard wrist rests good?
Which keyboard switches are the best?
Are keyboard keycaps universal?
Which keyboard should I buy?
Now you have some keywords and questions to use for blog topics, the next step is to write your blog!
Competitor Analysis:

While researching content ideas for your site, it's always worth looking at what your competitors are doing.
There may be content on their site you can take inspiration from, and create something even better with more value to your potential customers.
There are several steps you should take to analyse your competitors:
Step 1. Identify who your competitors are
Step 2. Categorise your competitors
Step 3. Review competitor websites
Step 4. Monitor competitor social media
Step 5. Analyse your competitor's website traffic
Landing Pages:
If you're running ads on social or on search, you may want to send that traffic to specific pages on your website.
Social Media:
Using social media to drive traffic to your site might seem obvious, but it's how you use social media that is going to make the most impact.
Firstly, now you have an idea of your target audience, it's important to look at where they're spending their time on social.
If your audience is Gen Z, TikTok is the ideal place to connect with them.
If you're selling a B2B product, LinkedIn may well be the platform for you.
Facebook:
# of monthly active users: 2.7 billion
Largest age group: 25-34 (26.3%)
Gender: 44% female, 56% male
Instagram:
# of monthly active users: 1 billion
Largest age group: 25-34 (33.1%)
Gender: 57% female, 43% male
Twitter:
# of daily active users: 187 million
Largest age group: 30-49 (44%)
Gender: 32% female, 68% male
LinkedIn:
# of total users: 738 million
Largest age group: 46-55
Gender: 51% male, 49% female
Pinterest:
# of monthly active users: 400+ million
Largest age group: 30-49
Gender: 78% female, 22% male
TikTok:
# of monthly active users: 100 million
Largest age group: 18-24
Gender: 59% female, 41% male
Free Social Media Traffic:
Once you've chosen the social media platforms you'd like to use, now's the time to create some content!
The type of content you create will depend on your product and audience.
For example, if you're a sportswear brand, you should make sure all your content has people wearing your clothes and showing them in action.
Paid Social Media Traffic:
Paid social media tactics get you traffic faster than organic social, but that traffic may not be of the same quality.
With some trial and error, you can make the most of your PPC ads and make sure you're reaching the right audience on the right platforms.
If you use social media at all, you've come across an ad in one way or another.
Social media ads are run across feed posts, stories, and even within some messenger apps too!
Depending on your product offering and goals, social media ads could be a good fit for your business.
If you'd like to increase your traffic and raise awareness for your product or service, social media is great for putting you in front of your target demographic while they're spending time on their favourite social platforms.
It's also great if your product is somewhat of a spontaneous purchase – someone scrolling through social on payday may see your ad and decide to click straight through to your site and make a purchase.
On the other hand, if you offer a practical service, such as locksmith services, social media ads may not be for you – someone who is locked out of their house is very unlikely to scroll social media in the hopes of seeing a locksmith ad.
Search Engine Optimisation:
We've covered content that is very customer-facing, now we're going to head behind the scenes with SEO and how to get the most out of SERPs. We'll also cover Google PPC ads in this section.
Metadata:
Metadata is what you see when you search for something in Google or another search engine.
If you don't fill these out yourself in the back end of your website, Google will pull its best guess from your webpage, which will rarely have good results.
It's crucial to include your keywords in the meta title, as close to the start as possible, as Google uses this to rank you for the right keywords.
Meta descriptions don't help towards SEO, but they are key to getting traffic to your website.
The meta description is like a mini ad explaining why someone should click on your page when you appear in search over other websites.
Featured Snippets:
Featured snippets are those helpful little boxes that appear on Google search and give you the information you're looking for without needing to click through to the website.
Because the featured snippet is above the rest of the search results and because of this prominent placement, websites with featured snippets can expect a higher CTR and more traffic.
Backlinking:
Backlinking is a fairly deep topic.
What it essentially means is to get other, trustworthy websites to link back to your website.
This could be linking to a product or, more likely, a blog article with good information.
The Google algorithm sees these websites linking back to you and concludes that the information you're sharing on your website is of high quality if multiple sites have chosen to link back to you.
There are lots of ways to get backlinks, and different techniques work for different businesses, but here are some of the main methods.
Writing guest posts
Unlinked brand mentions
Creating infographics
Writing testimonials
Becoming a source for reporters
Site Speeds:
Have you visited a new website and the load speed has been so slow you've gone back to search to find somewhere else?
Waiting for websites to load is annoying. We did our time back in the 90s, we don't want to have to wait.
If lots of visitors to your site are experiencing slow load times, they could well leave before the site has loaded, showing Google that your website is 'unhelpful', as if the visitor had a good experience they wouldn't have left so fast.
Paid Search:
You can get more traffic to your site by running paid search ads on search engines.
These ads appear as text above the rest of the organic search results.
Google Ads:

If you've ever used Google, you would have seen Google Search Ads.
They appear above the organic search results and have 'Ad' written next to them.
The more you pay in the auction, the higher up your ads appear. How much you will pay depends on how 'competitive' your search term is.
If lots of people are searching for a keyword, and lots of companies are trying to advertise on that keyword, the cost per click will go up.
Digital PR:

Digital PR is like traditional public relations – all about sharing a story related to your business that grabs media attention.
Digital PR is sometimes described as an evolved form of PR, focusing on online publications.
It often includes the following:
Publishing articles and press releases
Working with bloggers and influencers on product features and reviews
Affiliate marketing
Nurturing journalist and content writing contacts to secure press hits
Using social media to gain exposure
Building brand trust through online reviews
How to Create a Digital PR Strategy
Step 1. Set your Goal
This might seem obvious, but what do you want to achieve with your digital PR campaign?
Is it increasing traffic to your homepage, growing your email list, driving traffic to a new offer or promotion, or something else?
Having a goal in place will guide the rest of your strategy.
Step 2. Review your target customers
Think about who you are trying to reach. Is this campaign directed at your main target audience, or are you trying to reach someone new?
Step 3. Content ideation and research
Creating a good story for your PR piece takes time, and will need research.
It's important to see what competitors have posted in the past, as this could inspire you, or show you what to avoid.
Create a list of ideas based around your business and put them in order of which has the best hook.
Step 4. Identify target publications
Take a look at the publications your target audience are reading and see if your PR story would fit in well with the rest of their content.
Make sure you're providing value and a fresh story that will engage the publication's audience.
Decide on a few – you'll be very lucky if you only contact one and manage to get a feature.
Step 5. Design the Strategy
There are several different types of digital PR, including:
Publishing articles or unique data pieces online to gain high-quality backlinks
Networking with journalists and editors to gain backlinks
Publishing press releases and syndicating newsworthy content to earn press features
Publishing a content piece such as a calculator, online tool or interactive webpage
Blogger outreach to gain backlinks and mentions on relevant blogs
Influencer marketing to gain mentions on influential social media accounts
Affiliate programmes that pay a commission to bloggers who refer customers to your business
Offline press events or blogger events that aim to gain online coverage
Sharing and syndicating infographics
Reclaiming links by asking for a link to be added if your brand/business is mentioned on another website without a link
Think about which will suit your story and your audience best.
Step 6. Content Creation
Now the foundations are in place, you can create your content!
This is where you flesh out the details and ensure what  you write is interesting to both your target audience and the publications you will be targeting.
Remember to include images, videos, and even gifs in your piece to make it more engaging.